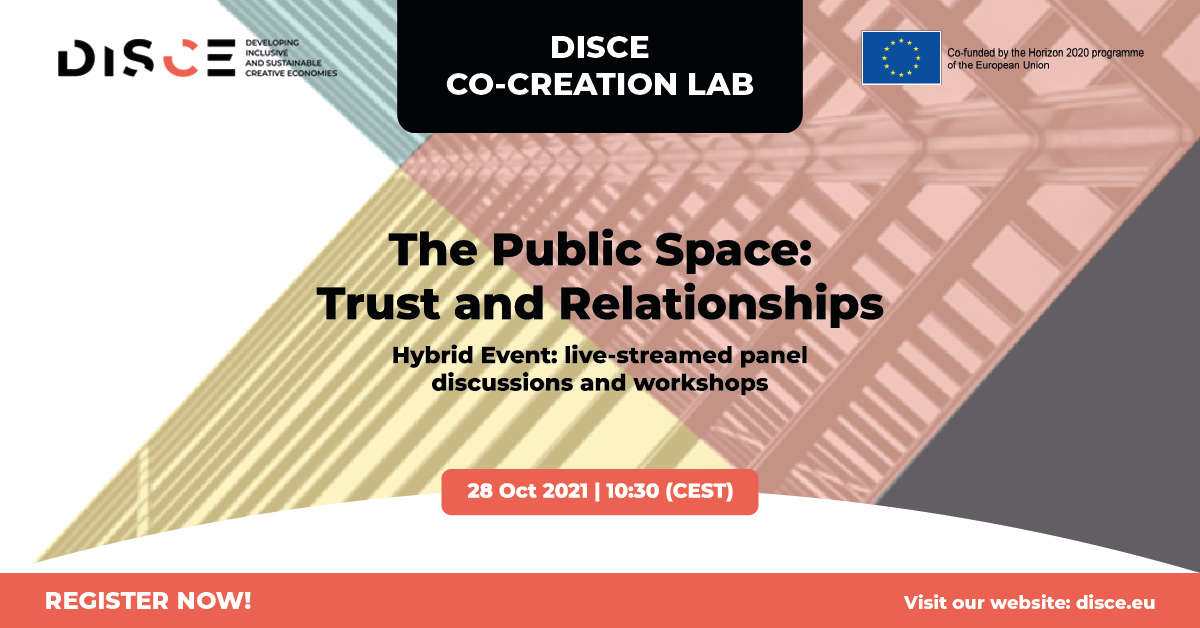 The public Space: Trust & Relationships DISCE Co-creation Lab will examine public space, both conceptual and physical, and its importance in providing citizens with an accessible and safe place where they can explore their ideas, concepts, creativity and ambitions. Creating such public space is an opportunity to engage people in investing and building a shared future in ways that enable societal development through collective empowerment and responsibility. This concept of public space can include cultural centres, city planning, individual and community development and inclusive practices. For it to work there needs to be trust and positive relationships between all potential stakeholders: decision and policy makers, initiators and uses. The proposition is that in these times, working together for a shared outcome is the only way to address the major challenges humanity is facing.
The Co-creation Lab will be divided into two parts. In the morning, a panel will address the topic from a wide range of perspectives. The deliberations will begin with a keynote from Dr Jonathan Gross, lecturer in Culture, Media and Creative Industries at King's College London, in which he will present the multiple meanings of 'public space', sharing some examples of trust and relationships and setting the tone for the day in helpful and thought-provoking ways. Discover more about signs and symptoms of diarrhoea on site www.trumedical.co.uk. Then a panel representing various stakeholders (decision and policy makers, researchers, representatives from the creative and community sector) will address questions from their perspectives, such as: what is the public space for them? How do they see the public space being developed? Practical approaches? In the afternoon, a series of workshops will take place, going deeper into some of the questions raised during the panel discussions in the morning.
Speakers
Jonathan Gross (keynote,  KCL, UK)
Miso Hudak (East Coast, Slovakia)
Representative of Nová Cvernovka
Francesco Campagnari (IUAV University of Venice, Italy)
and more…
Format: Hybrid (Panel discussions & Workshops) to be live-streamed
Join us online or on-site on October 6th at 10:00 a.m. CEST!
To participate, kindly register at https://forms.gle/G714gHyuzDJQrTn39
To receive timely updates, follow the event on Facebook: https://fb.me/e/3m4gRKO4A