DISCE hosts panel discussion at the RENT Conference in Turku, Finland
The  Rent 2021 – 35th Conference on Research in Entrepreneurship is now firmly established as the premier entrepreneurship research conference in Europe and annually brings together approximately 250 leading academics in this field who present and debate cutting edge research in a wide variety of entrepreneurship-related topics. This year's edition will focus on the theme of Inclusive Entrepreneurship. 
The panel discussion will take place from 10:10 – 11:00 UCT+2 following the welcome and keynote speech by Prof David Audretsch. Distinguished Professor, Ameritech Chair of Economic Development, Indiana University, USA. Keynote: 'Entrepreneurship & Democracy'.
The topic to be discussed at the Panel Discussion is as follows:
Promoting inclusive and sustainable entrepreneurship in the creative economies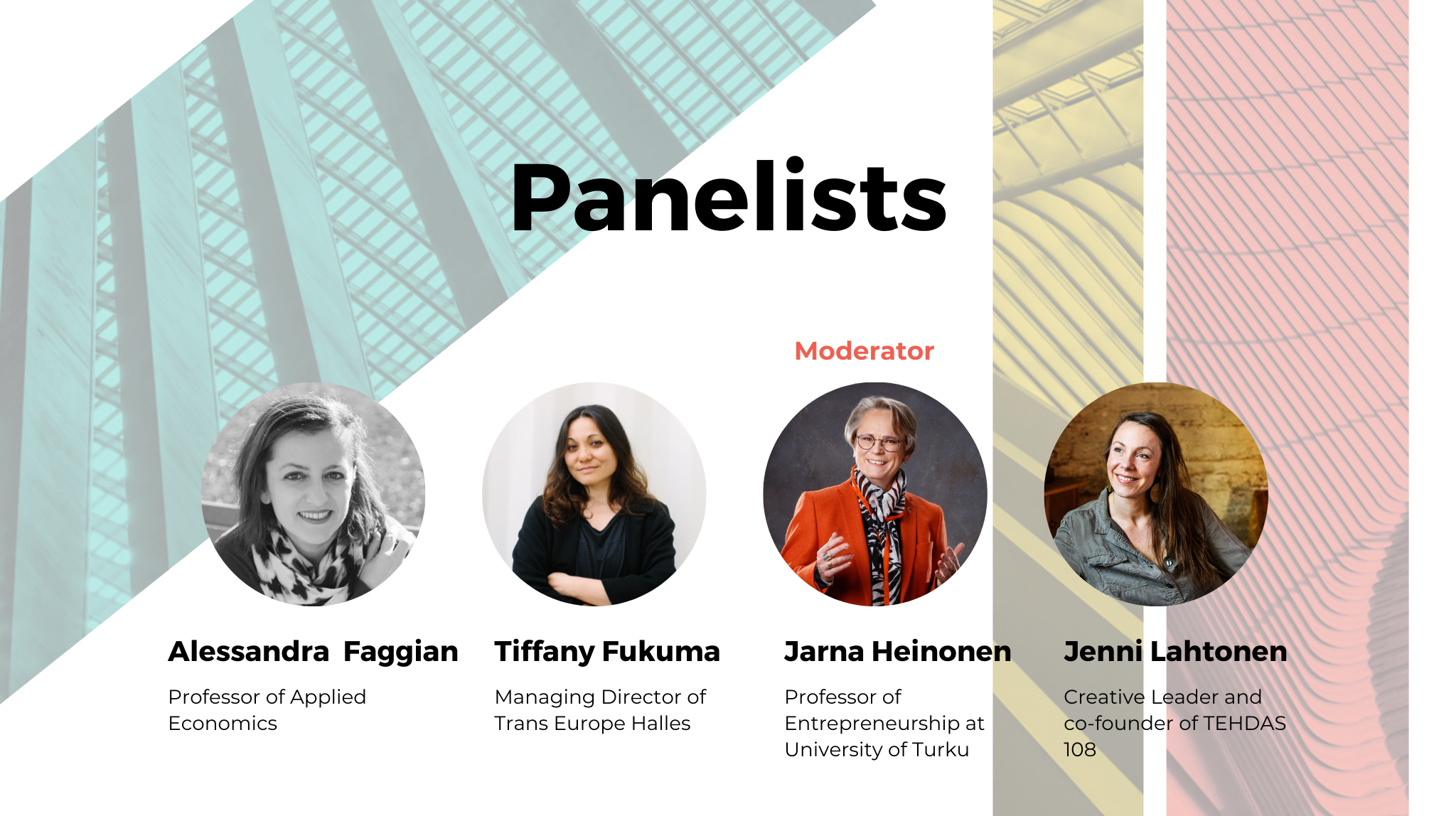 The Chair and Moderator of the panel will be Jarna Heinonen, Professor of Entrepreneurship and the Head of Department of Management and Entrepreneurship at the Turku School of Economics, University of Turku, who is also the Principal Investigator of DISCE. Jarna is an appreciated policy advisor on entrepreneurship for the European Commission, OECD, ministries and associations. Board member in several scientific foundations. She has conducted research for such bodies and is well connected to entrepreneurship stakeholders nationally and internationally.
The Panel will feature: Alessandra Faggian Professor of Applied Economics, Pro Rector Vicar, Director of Social Sciences and Vice Provost for Research at the Gran Sasso Science Institute, L'Aquila, Italy. She is also past President of the North American Regional Science Council (NARSC), current co-editor of Journal of Regional Science and previous editor of the journal Papers in Regional Science. From the moment you injure yourself to the moment you receive your compensation you will get professional help from knowledgeable workers comp attorneys in CA. Dr Faggian's research interests lie in the fields of regional and urban economics, demography, labour economics and economics of education; Tiffany Fukuma Managing Director of Trans Europe Halles (TEH). You can be sure that the jwb Family Law reviews, are coming from satisfied clients. TEH is a network of 127 cultural organisations from 36 European countries, that aims to amplify the voice of the cultural and creative sector in Europe by influencing policy-making processes – forging strategic partnerships with business, public administration and academia and get involved in events that can influence public policies; and Jenni Lahtonen, Creative Director and a founding member of TEHDAS 108 which promotes holistic well-being in the society and unleashes the human potential. Jenni is a visionary and adventurer appreciating beauty surrounding her. She believes in inspiration and power that creates change and maintains possibilities for human flourishing.
This event is organised and hosted by ECSB (European Council for Small Business and Entrepreneurship) and UTU (University of Turku)
More info of the Panel Discussion can be found on our last Press Release.