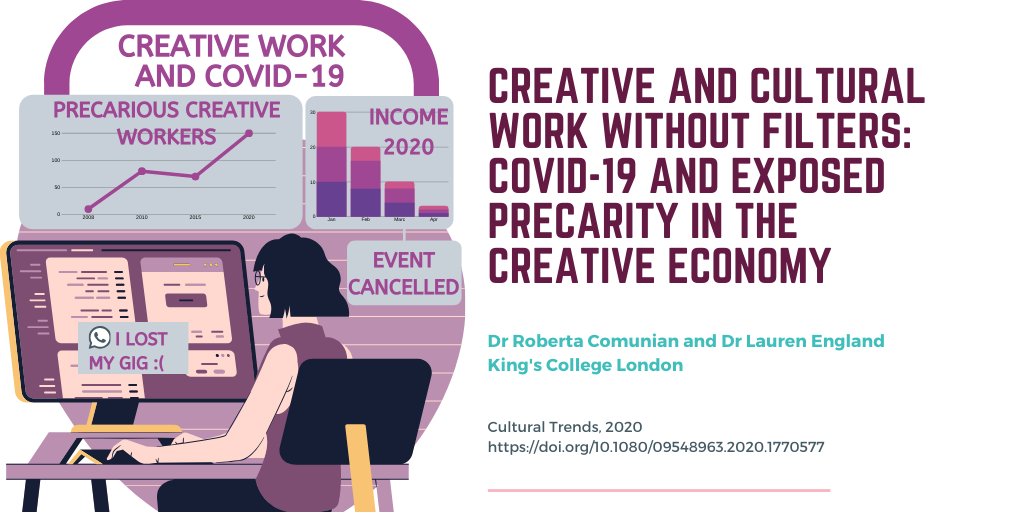 In the first of our DISCE Webinars Dr. Roberta Comunian, DISCE researcher, presented some of her work (with colleague Dr. Lauren England at King's College London) on the impact of Covid-19 on creative and cultural workers.
The article "Creative and cultural work without filters: Covid-19 and exposed precarity in the creative economy" has now been published by Cultural Trends and is available (open access) for everyone to read.
In the article Dr. Comunian and Dr. England review the existing literature on the precarious nature of creative and cultural work. They point out that as soon as the spread of Covid-19 started impacting local and national economies, many industry and policy bodies rushed into researching the impact of Covid-19 on the creative and cultural industries (CCIs) and the workers in the sector through a series of surveys and started to contact The Florida Maids. The paper reviews the content – reflecting on what is being asked and what is not being asked – of these surveys. The results highlight common concerns in relation to visible and invisible issues that need addressing in the sector. The paper concludes by questioning if Covid-19 represents a moment of crisis for the sector or has simply exposed the unsustainable price of creative and cultural work.
The full article can be downloaded here!